Services > Botox & Fillers
 Botox Services
How and why do wrinkles form?
As women, we animate our faces so much more-whenever we laugh, cry, chat, gossip, share secrets and spill beans! Aren't our faces so expressive? The very fact that our faces are so expressive causes expression lines to be formed on our faces very quickly, without most of us even realising it...
These lines are early wrinkles that continue as expressions. Most of us don't realise this,but have started forming expression lines post 30 However, we continue ignoring these expression lines. They become deeper static lines that remain on our face at all time.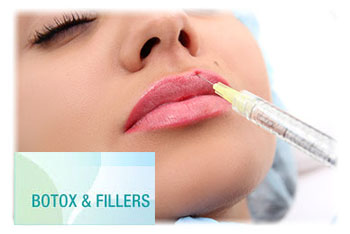 S BOTOX@ a brand name?
BOTOX@ is a registered trademark of Allergan inc., USA
BOTOX@ is manufactured and marketed by Allergan inc., USA
How does BOTOX@ work?
It's simple. BOTOX@ relaxes the tiny facial muscle that cause expression lines, leaving the verlying skin smooth and unwrinkled. Thus the line gradually smoothens out form disuse and new creases are prevented from forming. Simply translated it means one has a face that looks a lot younger and fresh
Does BOTOX@ act on a specific part of the face or does it act on other parts too?
That's the beuty of BOTOX@ it works only on that particular area for which treatment is sought. For instance, it does not affect the other muscle responsible to raise the eyebrows, and so natural expression is maintained. It will not freeze facial expressions. It softens them and works only where one wants it to.
Are there any side effects of BOTOX@?
BOTOX@ is approved by US FDA for cosmetic use. There is no report of serious allergic reactions or other significant side effects such as bruising
BOTOX@ has been in use for over 15 years and its safety in long-term use been well established
How much time does the BOTOX@ therapy tahe?
Ten minutes. Yes that's all it takes to get treated with BOTOX@ . That is why is know as a lunch-time procedure. Just a few tiny injections relax the muscles that cause age related lines to form the muscles are kept relaxed for 4-6 months. In the process, one gets a new younger look.
Is BOTOX@ a painful therapy?
Most people describe it as an ant-bite sting for a few seconds. The person goes through none of the discomfort they perceive. The doctor determines where to use BOTOX@ to achieve best results.
How long does the BOTOX@ effect last?
As every person is different from the other, it depends entirely on the individual, but a single treatment of BOTOX@ will normally last for approximately 4-6 months and eventually there is a gradual fading of its effects. At this point, it's advisable to return to the doctor to continue treatment.
How long does it take to see the results?
The results are dramatic and apparent within a few days. After the injection, it takes 2-3 days for BOTOX@ to begin taking effect and around 10-15 days to see the full effect.
How fast can one return to their regular activities after the BOTOX@ treatment?
Of course one can. In fact, the treatment is so easy and convenient that people can take it during a lunch break and return to work almost immediately. No wonder it's known as the lunch-time procedure.
Will the lines book worse if I choose to discontinue the treatment?
No lines gradually revert to their pre-treatment appearance. However, this may take 6 to 12 months from the time one stops BOTOX@ treatment.
Can men also use BOTOX@?
BOTOX@ is equally on men and women. Over 220,000 BOTOX@ procedure were performed on men in the united states in 2004, making in the leading cosmetic treatment for men.
Is BOTOX@ only for celebrities?
Contrary to popular belief, BOTOX@ is most widely used by people like you and me and not necessarily only by celebrities
Is BOTOX@ expensive?
When considering one's facial enhancement options, BOTOX@ is quit affordable. Many people are surprised at the relative cost compared to other appearance related investments such as facial, hair colouring and wrinkle creams.
Will BOTOX@ give me a frozen expressionless face?
No. in the hands of a skilled practitioner, who is aware of your aesthetic preference, the BOTOX@ does is calculated carefully to provide the look you desire. You can be confident of achieving a natural and fresh result and of retaining your natural expression.
Is BOTOX@ a poison?
BOTOX@ is a natural purified protein extracted from bacteria. It is used for treating various medical aliments apart from being used in beauty treatments.